Matt Kirshen, more to perform on live Twitter stand-up event - by Daniel Perlman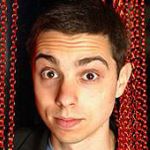 On June 8, British standout comedian and Last Comic Standing star Matt Kirshen, along with six other comics will participate in a groundbreaking stand-up event. Twitter will debut their first comedy show in what constitutes a new form of live entertainment. The show, Twitcom will show a new role of the stand-up comedian, with comics relying on their computer or cell phone for their performance.

Comedian Tiernan Douieb first developed this idea. "I was doing a poorly attended gig and complained about it in my Twitter updates," Douieb told Seven Magazine. "Some of my followers pointed out that I had a bigger audience online, so I should do a gig for them. It seemed like a fun idea. I got in touch with all the comics I knew who were frequent tweeters and generally they all seemed keen."

Despite the lack of the comedy club atmosphere, the audience will still be able to comment on and even heckle the comics during the show. This performance may be the first of many Twitcom shows, as Douieb said that a sponsorship is possible in the future.

The lineup of the other comics at Twitter's first-ever comedy night includes Matt Kirshen, Terry Saunders, Carl Donnelly, Mitch Benn, Gary Delaney, Rob Heeney, and Mark Watson.
More information about the show can be found at Twitcom's official site and on Twitter here: @tweetcomedyclub.